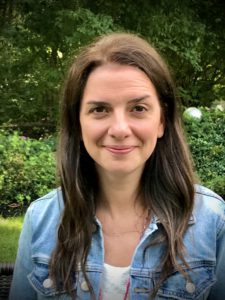 Alyssa Graye is a Board Certified Registered Art Therapist and a trained Trauma Focused Cognitive Behavioral Therapist who is passionate about using different forms of nonverbal expression to help children and their caregivers. She received her undergraduate degree in Psychology from Northeastern University and followed with her Masters in Professional Studies from Pratt Institute in Art Therapy and Creativity Development.

Alyssa has an extensive history working with children, adolescents, and families in various settings including working as an art therapist in a special education school, inpatient child and adolescent units, and a domestic violence shelter. Most recently, for the past six years, Alyssa worked on a multidisciplinary team as a Mental Health Coordinator alongside the Norfolk District Attorneys child special victim unit at the Child Advocacy Center. During her time at the Child Advocacy Center she received certifications in multiple evidence-based trauma treatments. She worked closely with DCF, local law enforcement, and the District Attorney's Office to provide a trauma lens and help victims receive the care needed to begin healing. Alyssa has provided trainings to community partners and professionals on childhood trauma, mandated reporting, childhood development, and vicarious trauma.

Alyssa uses a client centered, strengths-based, compassionate approach to working with children and families and fosters creativity that exists within all individuals. Art therapy does not require experience with specific art materials, and Alyssa uses both directive and non -directive approaches to tailor individual needs specific but not limited to: anxiety, ADHD, depression, trauma, and self-esteem and stress related issues.