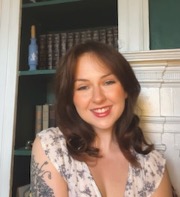 Mariah Jacobsen is a dedicated and compassionate therapist specializing in trauma-informed therapy. She received her undergraduate degree from Bay Path University with a Bachelor's in Forensic Psychology and continued at Bay Path for her Master's with a degree in Clinical Mental Health Counseling with a certification in Trauma-Informed Therapy.

Mariah's professional journey has taken her to diverse settings, including correctional facilities and the education system. These experiences have honed her skills in working with individuals facing various challenges. Through the power of play therapy and other expressive modalities, she works with a range of issues including, but not limited to: trauma related disorders, behavioral issues, autism, ADHD, anxiety, depression, intellectual and developmental disorders. She is adept at tailoring therapeutic approaches to suit the unique needs of each client, ensuring a personalized and effective counseling experience.

As a trauma-informed therapist, she deeply values creating a safe and nonjudgmental space for individuals to heal and grow. Mariah believes that the therapeutic relationship serves as the foundation for change, and strives to establish a strong alliance with her clients based on trust, empathy, and collaboration. She is passionate about working with children and teens who have experienced trauma, helping them reclaim their lives and rebuild a strong foundation for a hopeful future. By equipping clients with practical coping strategies, fostering resilience, and addressing the underlying factors contributing to their difficulties, Mariah aims to facilitate long-lasting positive change in children and their families.